Security isn't just about building walls; it's about
building trust.
That's why we've taken a leap towards transparency by making Otterize open source.
We believe in security
for all
Transparency, innovation, and trust are at the core of our mission. Join us in shaping a safer digital future, together. Explore, contribute, and strengthen security with Otterize.
Transparency builds trust
See the code, trust the code. Our open source approach ensures transparency and accountability.
Constant evolution
Security never stands still. By going open source, Otterize stays on the cutting edge of protection. Join us in shaping the future of security.
Community-powered innovation
Collaboration fuels innovation. With open source, we invite you to join our community and share ideas, and build a secure digital world together.
What are you waiting for? Experience the
power of Otterize OSS for yourself
Simplify network policy management
Why make things complicated when they can be simple? At Otterize, we're all about making your life easier.
Client intents: your new best friend
Forget the hassle of managing pod identities and labels or diving deep into network policy configurations. Say hello to client intents—the easy way to set access controls.
Bootstrap with ease
Starting from scratch? No worries! Bootstrap client intents effortlessly by using network mapper to learn from existing traffic patterns.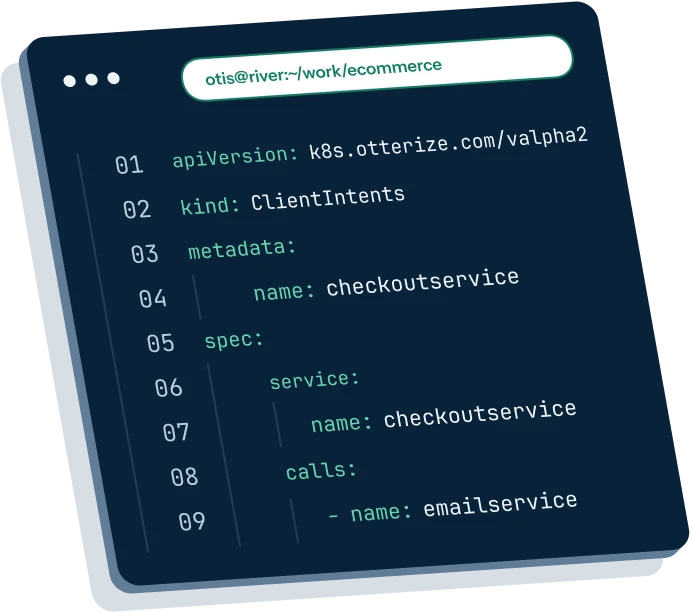 Otterize launches open-source, declarative IAM permissions for workloads on AWS EKS clusters
Simplify your AWS IAM role and policy management for Kubernetes ServiceAccounts with the open-source intents-operator and credentials-operator, leveraging the power of IBAC (intents-based access control) to streamline the process and eliminate the tedious manual steps.
Otterize launches open-source, declarative PostgreSQL permissions for RDS workloads on AWS EKS clusters
Effortlessly manage database access complexities through the open-source intents-operator and credentials-operator, enabling seamless control of permissions via Kubernetes, ensuring security, and simplifying the entire process with the efficiency of IBAC (intent-based access control).
How to gradually roll out network policies with the new AWS EKS VPC
Learn how Otterize makes it easy to apply zero-trust network policies to one service while being completely certain you aren't affecting any others. Discover how you can do that in a few minutes.